The International Forum on Quality in the Indian Photovoltaic Sector was held in New Delhi from 28 February to 2 March 2023. The forum brought together policy makers, regulators, quality infrastructure representatives and national as well as international photovoltaic experts to discuss challenges and solutions in the field of quality infrastructure (metrology, standardization, accreditation and conformity assessment).
As a result of the rapid development of the Indian photovoltaic sector over the past years, awareness is increasing for the importance of quality assurance for the fulfilment of the national targets for the expansion of renewable energy, the related value creation for the country and the achievement of the expected returns on investment.
Considering the demand for high-quality systems, products and services in the rapidly growing sector, PTB (the national metrology institute of Germany) together with IRENA (International Renewable Energy Agency), MNRE (Ministry of New and Renewable Energy) and NISE (National Institute of Solar Energy) joined forces to organize the forum in New Delhi.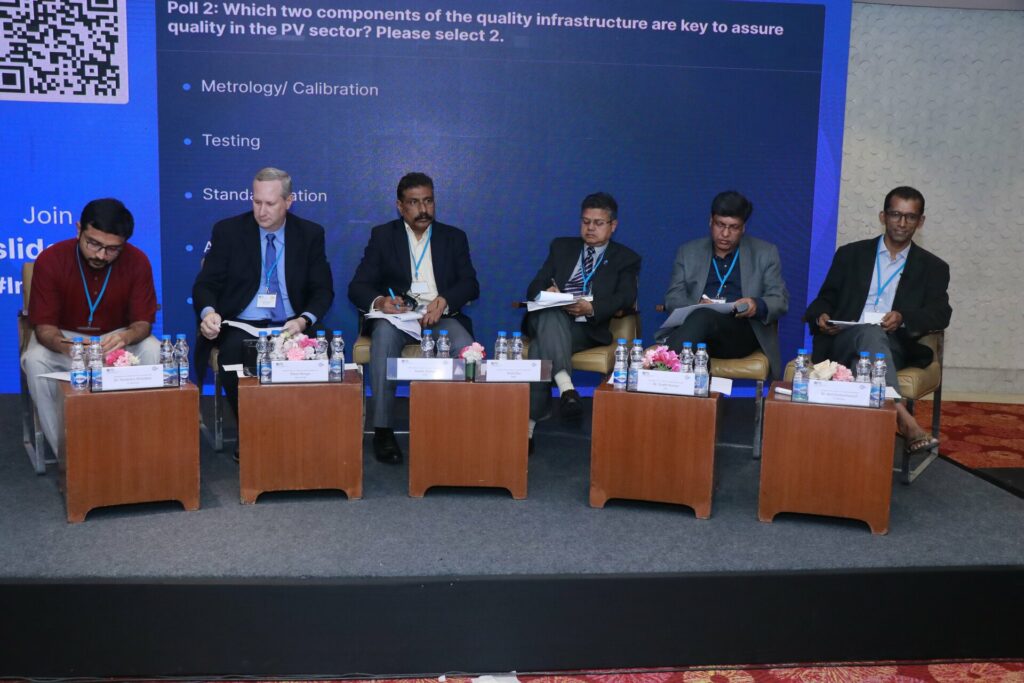 During a visit to a photovoltaic module manufacturing plant on February 28, the participants gained first-hand insights into the quality assurance procedures of Central Electronics LTD. The following day, the forum was opened by Dr A K Tripathi from the Ministry of New and Renewable Energy, who highlighted the need to further develop the Indian quality infrastructure system to effectively support the achievement of the ambitious national objectives for the expansion of photovoltaics. The opening address was followed by presentations from NISE, IRENA and PTB, focussing on the current status of Indian organizations involved in quality assurance, the existing global challenges and the need for a systematic approach to foster quality infrastructure along the photovoltaic value chain.
Based on these inputs, two panels which included the relevant national and international stakeholders discussed services required by the Indian PV sector to effectively assure quality and sustainability as well as the potential contribution of the quality infrastructure to a "Premier League" Indian PV sector. In the working groups that followed the panel discussions, participating experts on all elements of the value chain developed recommendations to overcome the quality and sustainability challenges identified. These recommendations were worked out in detail on March 2 after experts from the International Electrotechnical Commission and GIZ provided additional inputs.
Among the overall list of recommendations, the participants selected the following priorities:
Review and refine the tender specifications on the performance of photovoltaic modules and inverters.
Support testing laboratories in building up services according to the new versions of the IEC standards for photovoltaic components.
Support research and development on the long-term durability and lifetime of modules.
Create a guidance document on the consideration of quality aspects throughout the lifecycle of PV power plants.
Conduct training courses for the managerial and technical solar PV workforce.
The forum was concluded by a panel discussion between policy makers and stakeholders which underlined the commitment to implement the recommendations developed by the participants to jointly achieve the objective of superior quality in the Indian PV sector.
Further information can be found under the following link:
Recommendations elaborated by the working groups
Images © Sanjay Digital Studio & Mixing Center