From 14 – 16 June 2023, the central QI institutions of Indonesia organized a memorable festival titled Synergy of Metrology, Standards and Accreditation for Increasing Indonesia's Competitiveness. This marked the first time since the incorporation of the National Metrology Institute (SNSU-BSN) under the umbrella of the National Standardization Agency of Indonesia (BSN) in 2018 that the systemic cooperation as well as the successes and progress achieved so far have been celebrated.
On the opening day, the National Standardization Agency of Indonesia and the National Accreditation Body of Indonesia (KAN) welcomed the more than 2400 guests in an impressive event which took place in the state-of-the-art ICE BSD conference centre southwest of Jakarta. The festival combined the celebrations on the occasion of World Metrology Day, World Food Safety Day and World Accreditation Day. The event was accompanied by an exhibition where Indonesian and international companies, laboratories and chemical suppliers presented their products and services.
On the second day, presentations and panel discussions took place on various specialist fields relating to conformity assessment, including food safety and the planned halal certification. In addition, the implementation agreement of the BSN-PTB collaboration project Strengthening QI-services for Environmental and Climate Monitoring was ceremonially signed (see cover photo). The keynote on Measurement Traceability in Laboratories for the accredited laboratories was presented by PTB expert Dr Clemens Sanetra. He has been accompanying the development of QI in Indonesia since the 1990s and is also involved  –  in addition to the project on environmental and climate monitoring  –  in a project for developing QI in the field of photovoltaics that is being implemented by PTB and the Indonesian Directorate General of Renewable Energy and Energy Conservation (DG EBTKE). Indonesia has developed into a pioneer in the Association of Southeast Asian Nations (ASEAN) with more than 1700 accredited testing and calibration laboratories.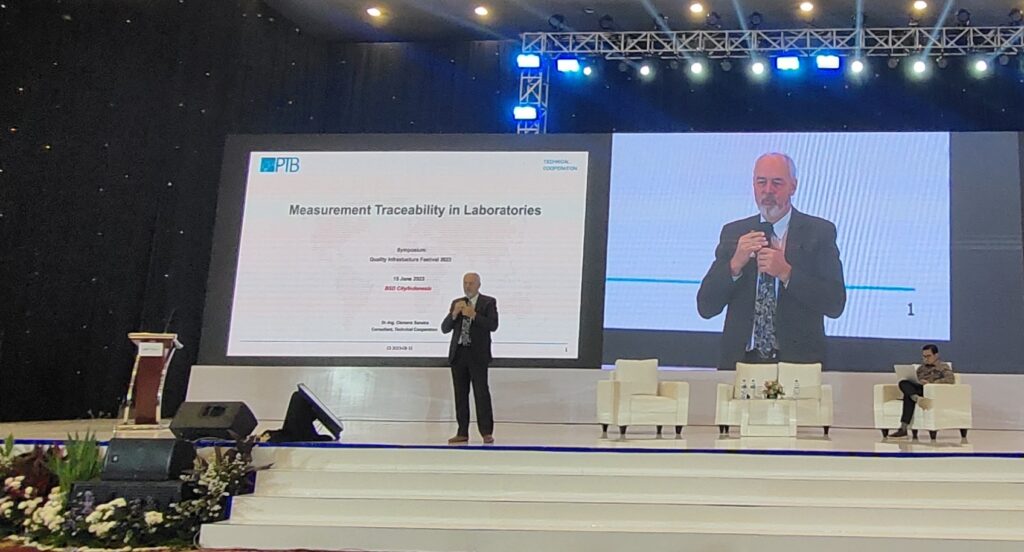 This event shows that Indonesia's QI institutions are willing to work together to demonstrate the relevance of QI not only for legal aspects but also in paving the way for innovations in industry and the economy. With this in mind, PTB and BSN are currently collaborating with textile industries to develop pilot projects aimed at helping them design more eco-friendly production processes. Here, one of the possible and innovative QI services is measuring the pollutant load of sewage sludge which is caused by cleaning industrial wastewater. Currently, waste producers have to dispose of this sewage sludge themselves at very high costs. If small and medium-sized enterprises were able use the new pollutant data to develop less expensive strategies, such as extracting and recycling heavy metals from the sewage sludge, this would be an additional incentive to meet the legal provisions on wastewater quality.
Images © BSN