No quality, no trade – a very drastic description! Still, it reflects reality in global trade. And with this topic, we struck a chord at the Aid for Trade Global Review: Six other side events alone addressed the relevance that quality infrastructure aspects have on trade and economic development – with very different areas of focus.
That is because to prove quality and to achieve promising entry into the world market, the appropriate QI services must be available. Services which are provided by the national quality infrastructure institutions.
However, the availability of services alone is not enough: The exchange of information on the quality demands of export markets and nationally available quality-assuring services also play a great role and allow the national quality infrastructure system to achieve its full potential.
The staff of PTB and the trade department of the Federal Ministry for Economic Cooperation and Development dedicated themselves to this challenge by organizing a side event at the Aid for Trade Global Review 2019 called "No quality, no trade". The focus of the panel discussion was on the role of economic support institutions in the exchange of information: How is information about the quality demands of export markets and about the nationally offered quality-assuring services conveyed?
Our work uses this problem as a starting point. Together with the International Trade Center, we developed the two-day seminar "Export Quality Management (EQM)". At this seminar, BSOs are trained so that they can lead their members – the small and medium-sized enterprises (SMEs) – through the complex web of market access requirements and quality-assuring services. Here, the transfer and dissemination of knowledge is of great strategic importance: it allows BSOs to inform SMEs about quality demands. This will allow the SMEs to join global trade as a downstream step. The seminar has already been implemented many times in cooperation between both institutions in PTB projects. Because of this, we were happy that Khemraj Ramful from the International Trade Center (ITC) was able to take part in the panel and share his experience.
The panelists in Geneva on 4 July 2019 quickly agreed: the quality demands of international markets continue to increase. Especially for SMEs from developing and emerging nations, it is therefore often a challenge to know which standards and technical requirements need to be applied and how the conformity of products can be documented using these. This information gap must be closed, otherwise it will prevent SMEs from becoming active in export. Quality-assuring services play a decisive role here – availability alone is not enough. Approaches such as the EQM seminars can potentially take on a major role so that BSOs can fully and completely fulfill their responsibilities as economic support institutions. The bottom line is that quality infrastructure can contribute more than just measurement, testing or certification services for sustainable economic development. Rather, efficient national quality infrastructure establishes enduring, safe and fair trade.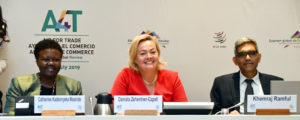 We would like to thank our panelists Catherine Masinde (World Bank Group), Daniela Zehentner-Capell (BMZ), Maha Saleh (The Engineering Export Council of Egypt), Peggy Schulz (German-African Business Association) and Khemraj Ramful (ITC). We would also like to thank the trade department of the BMZ as well as the WTO organization team for their contribution to the successful event.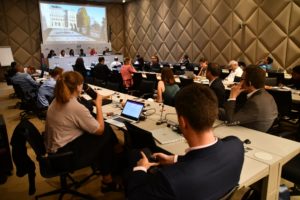 Background information:

From 3-5 July 2019, everything at the WTO headquarters in Geneva revolved around how inclusive and sustainable economic development can be achieved. This year's WTO "Aid for Trade Global Review" put this question in the focus: How can trade and economic diversification make economic systems more stable? Efficient quality infrastructure plays a role for this because it enables access to markets and strengthens the competitiveness of local manufacturers. Due to this, the topic of quality infrastructure was strongly represented in the Global Review program.