2022 saw the German Federal Government and its partners in Bolivia celebrate a special anniversary: 60 years of successful development cooperation!
We are very pleased about the positive progress we have made as are the other executing agencies working in the field of German development cooperation. This joint progress has been achieved in supplying drinking water and in waste water disposal, as well as in rural development, the environment and energy. For one thing, PTB can look back at successfully cooperating with IBMETRO, the Bolivian metrology institute, over a good number of years in a project titled "Promotion of the quality infrastructure to support the measurement of consumption and quality of drinking water and waste water". But we have also accomplished our first joint successes in a new project on "Strengthening quality infrastructure in the areas of renewable energies and energy efficiency". The fact that we have already been able to publish many standards on LEDs, fridges, air-conditioning systems and photovoltaic technology demonstrates this success.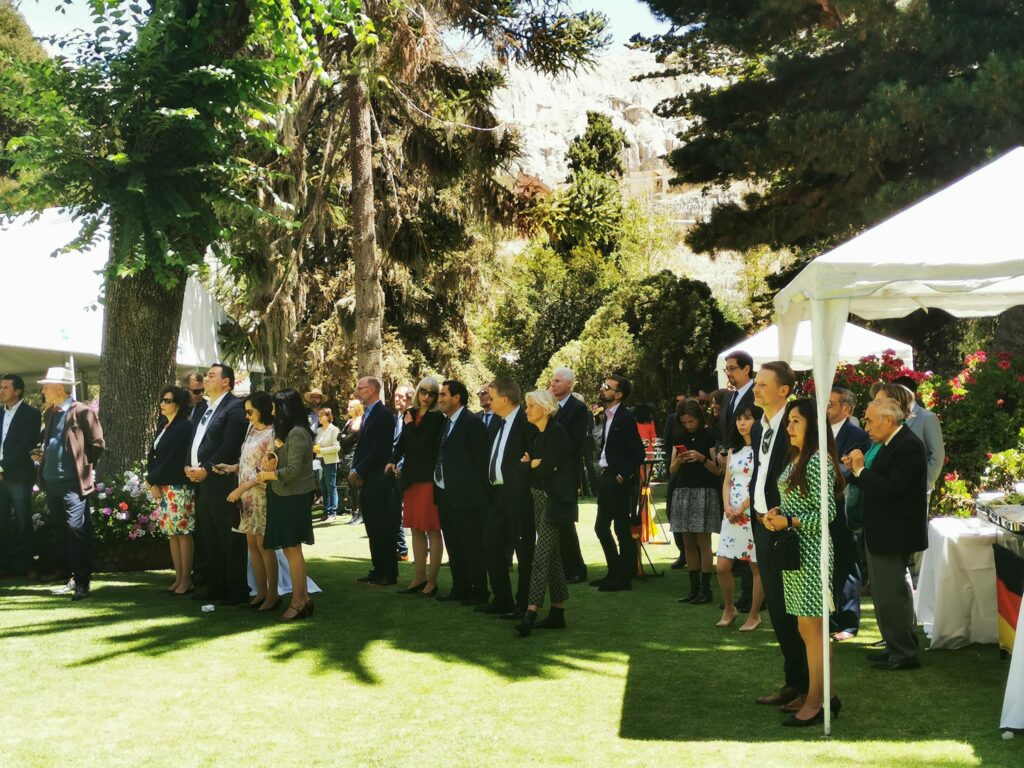 Celebrating our 60-year anniversary along with the Day of German Unity were the reasons for a reception that was held in Bolivia at the residence of Ambassador José Schulz. Over 500 guests attended the event. The Bolivian Government was represented by Foreign Minister Rogelio Mayta and Minister of Justice Iván Lima Magne. The garden of the residence was the setting for a number of stands that were organised by several German executing agencies including the Gesellschaft für Internationale Zusammenarbeit, the Kreditanstalt für Wiederaufbau and PTB, as well as German political foundations and the German Chambers of Commerce Abroad. This gave the guests the chance to find out just how committed Germany is to Bolivia and to learn about the diverse nature of the activities that are on offer. We are pleased to say that many people were very interested in all of this.
During our time in Bolivia, we also invited Annika Gottmann, who is the Head of Development Cooperation at the German Embassy in La Paz, to visit us. We focused on showing her our work in this part of South America along with IBMETRO's offices. We also discussed the wider goals of our project work in the field of quality infrastructure and looked at metrology and accreditation in more depth.
Hearing that the Federal Ministry for Economic Cooperation and Development has decided to continue sponsoring this development cooperation after 2023 has made us particularly happy. PTB and its partners want to complete our project work on water resources in Bolivia by September 2024. We are also currently working on e-mobility as well as on certain areas in the field of energy that we have been focussing on for a while. And we want to carry on supporting the Bolivian Government in their efforts to implement the energy transition, too.
The success that we have achieved so far while cooperating with Bolivia has made us very proud, and we are greatly looking forward to continuing this in the future.
Cover Image © PTB