The ancient Egyptians knew how important accurate measurements are – the pyramids are proof of that. Measurements as well as their impact were the theme at the Kempinski Gold Coast Hotel in Accra on 19 May. Here, just one day before World Metrology Day 2021, PTB's "Establishment of a Fit-for-Future National Metrology Institute in Ghana" project was officially launched in the presence of many high-ranking guests. Among them were the Honourable Minister of Trade and Industry, Alan Kyerematen, the German Ambassador to Ghana, Christoph Retzlaff, the Head of Delegation of German Industry and Commerce in Ghana, Burkhardt Hellemann, Director General at the Ghana Standards Authority, Professor Alex Dodoo, and Professor Fred McBagonluri, a consultant for GSA. Professor Joachim Ullrich, President of PTB, and Dr. Barbara Siegmund, Head of the Sub-Saharan Africa Section at PTB's International Cooperation Group, attended the event virtually from Germany.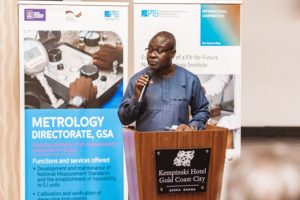 "To create jobs, we must industrialise. To industrialise, we must modernise. A key part of modernisation and industrialisation is metrology."
– Prof. Alex Dodoo
The aim of the new project is to enhance the metrological capacities of the Ghana Standards Authority and thereby strengthen the country's industrial development, leaving it well-equipped for the future and its challenges. Ghana's challenges are manifold: creating jobs for the youths who enter the Ghanaian job market every year, battling climate change, ensuring participation in global markets and finding ways to take advantage of the opportunities that are arising from digitalisation. Every single one of these challenges is, in its own way, connected to metrology. As Professor Fred McBagonluri so aptly put it in his address, "Metrology is critical to everything we do." Likewise, Professor Alex Dodoo underlined the importance of high-class metrological services when he said, "To create jobs, we must industrialise. To industrialise, we must modernise. A key part of modernisation and industrialisation is metrology."
The new project is thus providing support in exactly the right place. Alan Kyerematen drew attention to the fact that this is precisely the type of support his country needs right now: catalytic aid. The project objective, as Christoph Retzlaff pointed out, fits perfectly with the Ghana Beyond Aid approach which the President of Ghana, Nana Addo Dankwa Akufo Addo, set in motion. This approach envisions Ghana as a self-reliant country that is economically stable, active in the global market and an attractive place for the next generation. Mr Retzlaff went on to emphasise the significance of standards by highlighting that metrology is an important building block of competitiveness in export markets. The Ghanaian Minister of Trade and Industry agreed: "If you want to play in the export market, you have to be sure that you respect standards and measurement. If we want to produce, we have to be able to trade", he explained.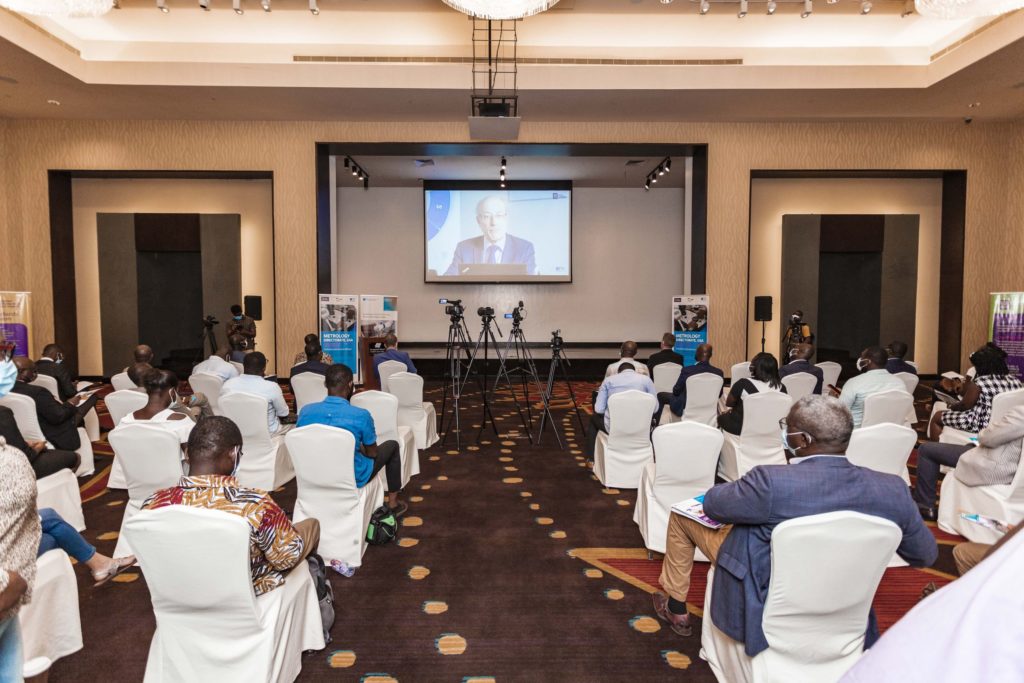 When it comes to local production, the African Continental Free Trade Area, which came into force in 2019, offers enormous potential for enhancing manufacturing processes and accelerating intra-African trade. Its secretariat is located in Accra – something that "fits perfectly with GSA's ambitions", Barbara Siegmund stressed. To achieve these ambitions, a fit-for-future national metrology institute is crucial. Professor McBagonluri indicated that a joint measurement system "ensures that nations are speaking the same language". This is not only relevant for trade – whether it be in a single or global market – it was also a fitting reference to the signing of the Metre Convention in 1875. The goal of the representatives of the seventeen nations who signed the convention on 20 May 1875 was to establish uniform measurements. This goal is still being pursued today. That is why we celebrate World Metrology Day on 20 May each year.
By achieving higher calibration standards, GSA will be able to provide internationally recognised metrology services to the region in West Africa. Professor Joachim Ullrich explained that this will foster local production, and, in turn, Ghana's social and economic development. Consumer protection is another integral part of the project, highlighting again that metrology is the golden thread when it comes to our daily lives as well as to the broader scope of a nation's position in international economic context. As Alan Kyerematen put it, "Without measurement, […] anything can happen."
To prevent "anything" (i.e. chaos) from happening, GSA and PTB, now in their sixteenth year of cooperation, are continuing their resourceful efforts to provide relevant and first-rate metrological services. At the heart of this collaboration is not only a common interest in advancing uniformity in international metrology, but also mutual respect which is felt. Burkhardt Hellemann mentioned this "heartwarming and professional cooperation" in his speech, saying that "Good human relationships – this is at least my experience after five years in Ghana – are the basis for a constructive and impactful cooperation between two countries from different continents." We are excited about continuing the journey with our partners at GSA!
Did you miss the event? Click here to watch the recorded live stream.
Speakers:
Prof. Alex Dodoo (15:24)
Prof. Dr. h. c. Joachim Ullrich (22:55)
Dr. Barbara Siegmund (33:50)
Burkhardt Hellemann (41:30)
Prof. Fred McBagonluri (46:54)
Christoph Retzlaff (54:20)
Hon. Alan John Kwadwo Kyerematen (1:01:00)
George Anti (1:22:48)
Images © Okyere Photography