May 19, 2022. Today, the National Metrology Institute of Germany (PTB) is launching the Regional Conference: Quality Infrastructure for Biodiversity and Climate Protection in Latin America and the Caribbean in close coordination with the Organization of American States (OAS), the Pan American Commission for Technical Standards (COPANT), the Inter-American Accreditation Cooperation (IAAC) and the Inter-American Metrology System (SIM), as allies and strategic regional partners. Through this conference, PTB is completing the implementation of 16 projects in Latin America and the Caribbean that focused on establishing synergies between Quality Infrastructure and the obstacles associated with biodiversity losses and climate change issues. The projects are part of a Regional Fund financed by the German Federal Ministry for Economic Cooperation and Development (BMZ).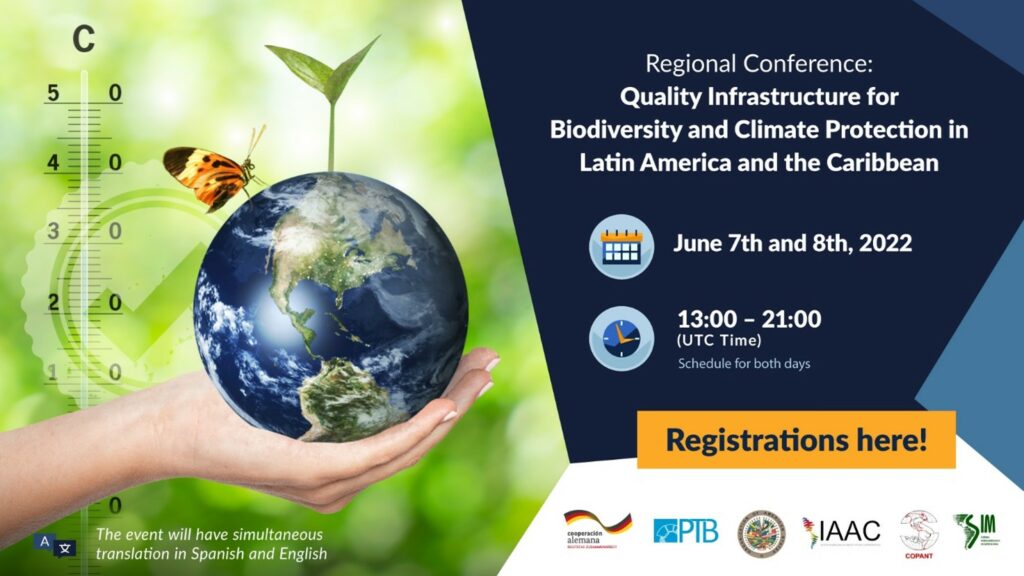 The Regional Conference will be a space for discussion and review of results targeted towards Quality Infrastructure organisations and related actors; as well as the general public and stakeholders interested in biodiversity and climate protection.
The event will feature different discussions with international experts and the coordinators of the 16 subprojects that belong to quality infrastructure institutions across the region. In these spaces, it will be discussed how quality is a fundamental factor to achieve progress in terms of biodiversity and climate protection in Latin America and the Caribbean. Moreover, visitors can delve into the results of these projects, through a virtual showcase with deploys detailed information about each of them. Visitors will also be able to learn more about the projects by getting in touch with participating quality infrastructure institutions via chat or bilateral meetings.
Join PTB at this important regional meeting for Latin America and the Caribbean!
Register at the following link here, and schedule bilateral meetings with the coordinators of the 16 projects of the Regional Fund for Quality Infrastructure for Biodiversity and Climate Protection or with the regional organizations of quality infrastructure SIM, IAAC and COPANT.
Image 1 (post image): © szefei
Image 2: © PTB