Candela is the International Cooperation group's blog featuring reports on events, news and updates on the progress of our work. Project teams play a key role in all our projects. In this interview series, we will get to know the people behind the projects better. Here you will find background information on our work and our motivations, you will learn more about the challenges we face and perhaps even take a sneak peek into the future.
There's one thing Lisa has been sure about for a long time: she's a wholehearted lover of languages. Getting to know new cultures, intercultural exchanges and mutual learning are what make languages so interesting for her. She believes that knowledge of a language implies actually practicing and speaking it abroad. "I don't want the mere language to be my job, but to use the languages I've learned to do my job," she says. For this reason, Lisa looked for a job in an international context and found one at PTB. Since July 2017, she has been working as a project assistant in the Sub-Saharan Africa Section and supports its projects in Ghana, Mozambique and Senegal.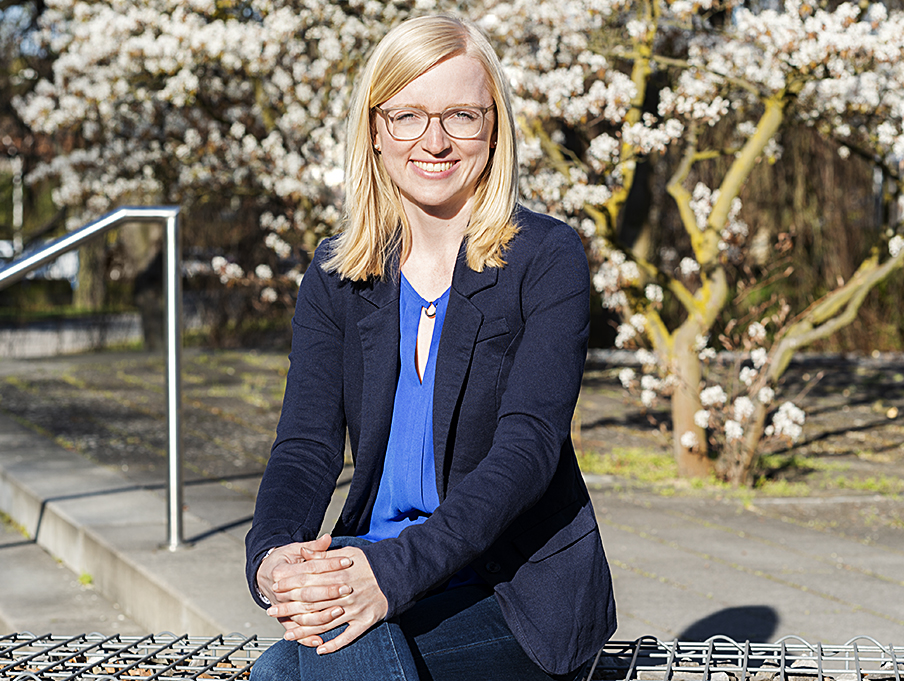 Lisa was already very interested in language learning when she was at school and thus opted to do her Abitur with a language focus. After having finished school, she completed her vocational qualification as a Multilingual Management Assistant with a focus on foreign languages that combined her language and organizational skills. These skills are now beneficial in her everyday work. So why did she decide to work in international cooperation? "It was probably not a deliberate choice, but it's a job that suits me in many respects. The interesting thing about international cooperation is that we can support countries as they find their own way and as they reach their own goals. I'm glad to be part of such endeavours in my everyday work," Lisa says. "Getting to know new partners and experiencing different cultures, perspectives, successes and challenges – that's a huge motivational factor for me." Currently, Lisa is supporting projects for the Establishment of a fit-for-future national metrology institute in Ghana, for the Strengthening of quality infrastructure in the agriculture and food sector in Mozambique and for Strengthening the quality infrastructure for innovative energy services in Senegal.
What is a typical workday like? As the projects themselves are very diverse, so are the tasks and processes. One major part of this is organization. "For me, to-do lists are absolute life-savers," Lisa says, laughing. "I like to work in a structured way and keep an eye on what needs to be done." This becomes clear when we look at her desk, where her notebook and Post-its are indispensable. From organizing trips and supporting visitors in Braunschweig to invoice processing, finance monitoring and translating – she likes the mixture of different tasks. All these fields of work always require good communication. Working together in a group is what helps her a lot in this matter. "All the doors in the division are open, not just as a figure of speech. Within our section and beyond, people are very helpful and open-minded, which especially helped me when I started at PTB. We keep in touch all the time and use many different ways to communicate." For this reason, Lisa names the canteen as her favourite place at PTB: "The PTB premises seem like a small town, which is probably due to its campus structure. To me, it's an idyllic place to work, although I sometimes got lost at the beginning. During lunch breaks, you can easily forget what you're currently working on. The canteen is a nice place for having conversations. You can learn a lot about the projects and experience of others in a casual way," Lisa says.
Organizing trips and workshops on site offers the greatest diversion from daily work routines. Especially her mission to Ghana was very memorable. She participated in organizing a Calidena workshop dealing with the mango value chain. "We retraced this value chain on site: from the mango plantation to a company processing the fruits to dried mango chips. On the way there, I got amazing impressions of the countryside," Lisa remembers. She says that it is a great added value to get to know the partners on site and to see how they operate in their own work environment.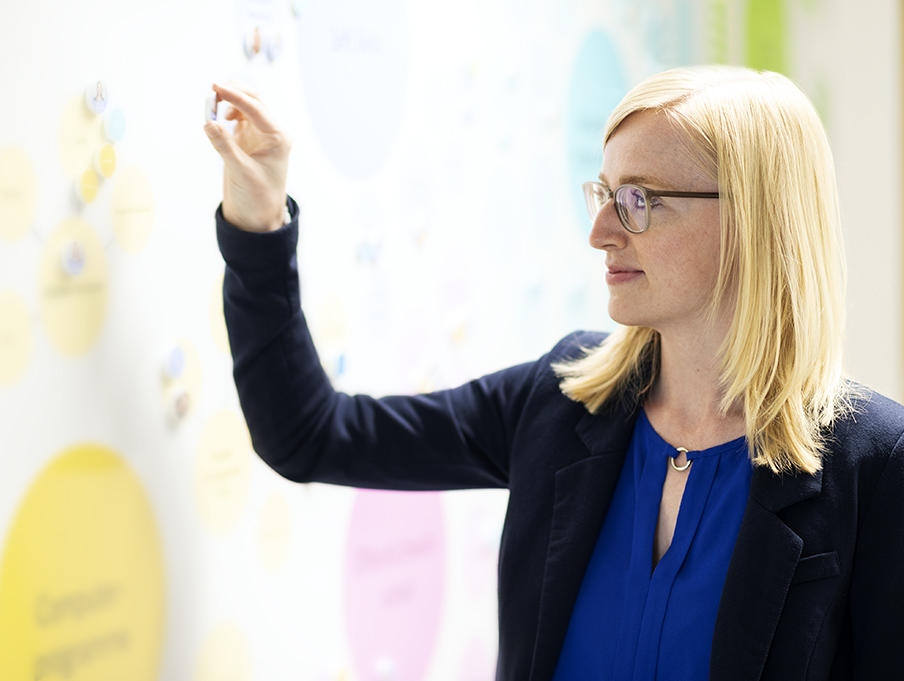 On top of the project work, Lisa is also involved in the Assistance, Administration and Public Relations Subgroup as well as the Knowledge Champion Map Task Force. "With the Knowledge Champion Map, we were able to create a space where the knowledge of the group is presented in a collective manner. All the employees can allocate themselves to different areas of knowledge and skills using magnets. It's a sort of dynamic map that shows the network of existing knowledge. People can place a magnet to indicate that they can be contacted and are willing to help," Lisa explains. This map is now also available in digital form to meet the requirements of the current work situation.
Even if Lisa is looking forward to testing new tools and to working on processes in a digital environment, personal contacts on site are still indispensable. "All of the cooperation in the projects is based on trust. It's much easier to create this atmosphere face to face," Lisa concludes. With a view to the future, she wishes for her workdays to stay colourful, diverse and dynamic.
Three questions for… Lisa Kühle
How would you describe PTB in three words?

international, cooperative, authority


Please complete the following: My workday usually starts with…

… checking my emails so that I have a good overview of that day's work first thing in the morning.


Looking back at your work at PTB so far, what stands out most strongly in your memory and why?

Definitely my mission to Ghana and planting an actual pineapple on a plantation there. It was a unique experience that probably won't be repeated any time soon!



Photos © PTB