Wherever you are | Whenever you wish.
PTB's International Cooperation department has commissioned an animated film to sketch a vision of the future and encourage discussions.
Roughly speaking, the film is about the ways that the living conditions in our partner countries can be improved in the sense of the Sustainable Development Goals through digitalized quality infrastructure.
We encourage you to join Anna and Manolo in their (currently) fictitious experiences with digitalization.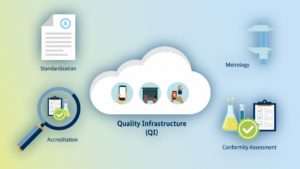 As a film should be viewed and not just read about, there is no summary of the content here, but just our request that you use the following link:
https://www.youtube.com/watch?v=6rCNQuXi9ys
Please take a good five minutes of your time for the film and then save another minute to send your feedback to this e-mail address: digitalisation@ptb.de.
At this time, we would like to thank the people who inspired this film: Patrick Dolle, who was a project coordinator for India and Indonesia for many years, but has unfortunately left PTB (best wishes to him!) and also the experts Heike Koch and Alexis Valqui.
And now it's time to watch the film!
Images © PTB/ Jenko Sternberg Design