From 2-5 November 2022, a delegation from the Federal Ministry for Economic Cooperation and Development and the German Bundestag visited Nepal. Parliamentary State Secretary Dr Bärbel Kofler was among the group that travelled to the Himalayas to discuss the continuation of bilateral cooperation between Germany and Nepal with government representatives. During their short stay, the delegation also took advantage of the opportunity to see the results of German projects for themselves.
Just as the KfW Development Bank and Deutsche Gesellschaft für Internationale Zusammenarbeit, PTB has also been involved in Nepal since 2007. Its work focuses on expanding the services of the national quality infrastructure, QI for short. For QI to be fully functional, public and private sector actors must cooperate well. PTB has been working with Nepal's national metrology institute, the food safety authority and selected business associations to strengthen quality assurance services in their respective value chains. A real success story is the cooperation of PTB and its partners with the pharmaceutical association APPON, which, with over 70 companies, represents the majority of the pharmaceutical sector in Nepal.
During a discussion with the president of APPON and a visit to one of the many companies that is a member of the association, the delegation was able to learn about the successes of the cooperation between APPON and PTB first hand. Through custom training seminars provided by PTB's experts, pharmaceutical producers are able to align their facilities and manufacturing processes with higher levels of good manufacturing practices. This increases quality and product safety for domestic users and will potentially enable access to international markets.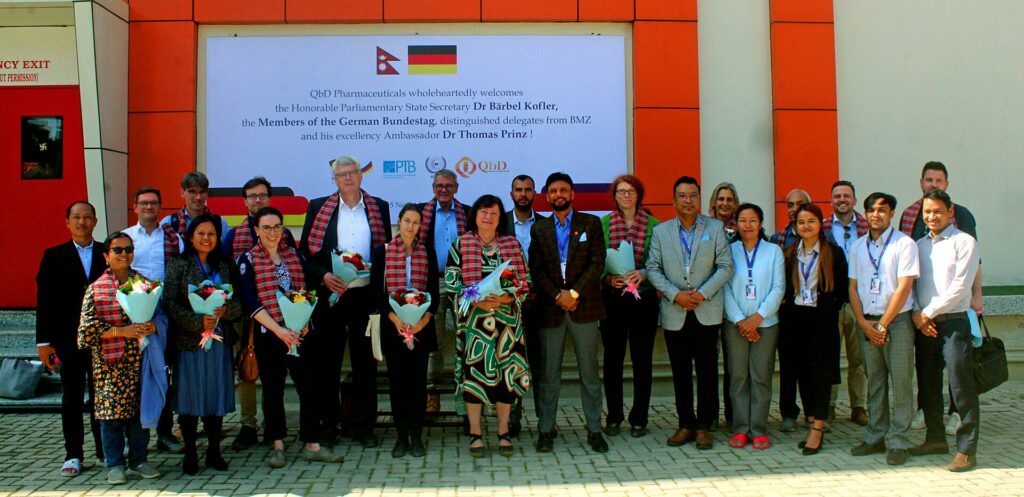 However, it also became clear that the pharmaceutical sector still faces major challenges. As in Germany, the production of pharmaceuticals is dependent on active ingredients and raw materials from China and India. Furthermore, the government price targets of some basic medicines do not cover the production costs, meaning that they cannot be produced at all or only at a loss. For the export of medicine, the fulfilment of strict and internationally aligned quality criteria is necessary – this is where PTB is supporting the companies. Through needs-oriented training and consultancy, many companies have been able to significantly improve their processes and quality management. Participants of the training seminars reported that the knowledge they acquired had expanded their scope of work, improved their daily work processes and increased their responsibilities within their companies.
As a result of Dr Bärbel Kofler's visit, the successful cooperation between APPON and PTB has gained a well-deserved spot in the limelight, and we are happy to continue this collaboration as funding for another year of work has been granted by the BMZ. In future, the collaboration shall be further expanded to build up a sustainable pool of skilled staff for the pharmaceutical sector.
Images © QbD