Creating an African single market – that is the aim of the African free trade treaty which came into force in 2019. An operational and well-developed quality infrastructure is indispensable for reaching this goal. On 2 October 2020, within the scope of a virtual meeting, the Pan-African Quality Infrastructure (PAQI) confederation therefore presented three studies dealing with the paramount role of the quality infrastructure in implementing the African Continental Free Trade Area (AfCFTA). These studies were supported within the scope of PTB's project titled "Upgrading of Quality Infrastructure in Africa", which cooperates closely with the Commission of the African Union. The virtual event took place under the auspices of Albert Muchanga, the African Union's Commissioner for Trade and Industry, and Josefa Leonel Correia Sacko, the African Union's Commissioner for Agricultural Development. Among the other speakers were representatives of PAQI, the African Union and the UN Economic Commission for Africa.
Reducing technical barriers to trade has been effected, among other things, by means of harmonized standards and mutual recognition agreements. This is an important condition for the success of the free trade area – the African Union's flagship project. The member states must therefore be able to meet the requirements specified by AfCFTA. Quality infrastructure plays a central role in this context. Two new publications in a series about taking stock of the current situation have been developed to provide support where the need for development is greatest. The documents are a snapshot of the state of quality infrastructure in African countries, clearly represented using a colour-coded system based on traffic lights. One of the publications is a finalized benchmarking study on sanitary and phytosanitary (SPS) measures. The other is an update of the current situation regarding technical barriers to trade (TBT). The collected data is crucially helping political decision makers to identify weak links and take corrective action where necessary.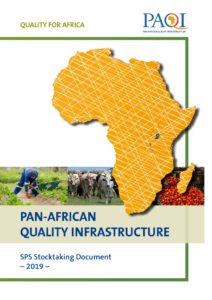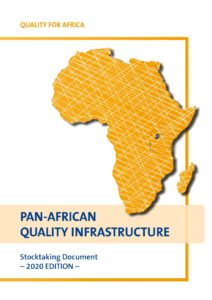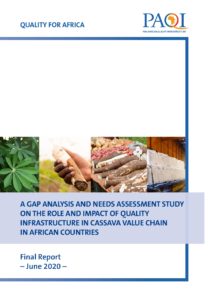 The third study deals with cassava. Whereas it is used as an ingredient in hip cuisine in parts of Europe, cassava is a staple in Africa. Due to its wide consumption, cassava has a huge potential for boosting intra-African trade. The PAQI institutions are therefore working together to improve the quality and competitiveness of cassava products at all levels of the value chain. In this context, an exhaustive study on the role and impacts of quality infrastructure in the cassava sector was completed during the first phase of the project. The study, which was presented by PAQI president Celestine O. Okanya, analyses gaps in the quality infrastructure and determines the requirements to be met in order to bridge these gaps. Based on the findings of the first phase, it is planned to develop capacities and to reach the mutual recognition of conformity assessments.
The studies are available in English and French and can be downloaded here: