page titel
On August 20 and 21, the German Government opened its doors in Berlin to welcome interested visitors. Several thousand people took up the invitation to learn more about the work of the Federal Ministries and numerous partner organizations. PTB's international collaboration work was showcased at a stand set up in the garden of the Federal Ministry for Economic Cooperation and Development (BMZ).
"What does metrology have to do with development cooperation?" asked one visitor, and she was not the only one to do so. The PTB team's answer came spontaneously: "A great deal." In face-to-face dialog, they were able to explain that measurements, standards and a functioning quality infrastructure play a key role in supporting development, among other things by helping countries participate in world trade. This is why PTB's cooperation with numerous partner countries is so important across the globe.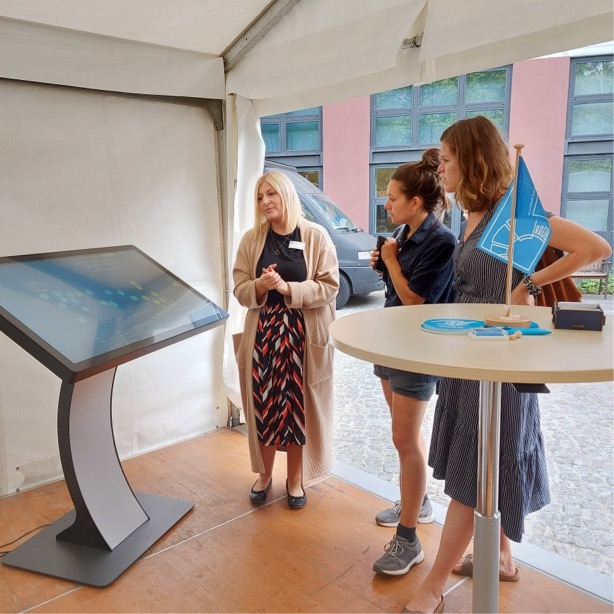 During the event, PTB was particularly proud to present its Capacity Development Online Navigator, the product of two years of work. This tool helps users to exploit various formats for virtual collaboration, and it had already proved to be a very popular attraction for visitors at the Open Day event in Bonn. On a large touch screen, interested visitors were able to browse through the navigator and explore the tool on their own. The response to what they found there was very positive, surely due to the growing importance of virtual formats in the field of international cooperation. Virtual formats have long been part of the modern working world in many sectors, and will certainly continue to be so, especially as we all seek responsible approaches to dealing with to climate change. This is why Laura Häußler, a member of the Capacity Development working group, was so keen to emphasize at the Open Day that the website is a living document. Constantly changing, the website can be enhanced at any time with new insights and knowledge so that it always has its finger on the pulse of the times.
BMZ Department Head Jürgen Zattler visited the PTB booth early Saturday afternoon. Svenja Schulze, Federal Minister for Economic Cooperation and Development, could not attend the Open Day event as she was on official visits to Columbia and Bolivia.
In addition to the information stands, a colorful stage program consisting of international music, discussion rounds and a cooking show offered a variety of entertainment. A rally, in which quiz questions could be answered at each stand, encouraged many children and young people in particular to learn more about the work of the BMZ, the governmental implementing organizations, and non-governmental organizations.
Susanne Wendt, Head of PTB's Working Group on Processes of International Cooperation, says: "We were very pleased about the lively interest in our work and the exciting discussions with visitors. Especially after the restrictions due to the pandemic of the last two years, it was so much more fun to present PTB's International Cooperation in direct interaction with citizens. We are looking forward to the next time".
Here is a link to the Capacity Development Online Navigator: https://www.cdo.ptb.de/
Photos © PTB